Translated by: WuWang
Edited by: Godders123, Wryvent
We are paying our readers now! Look at this page for more information.
Chapter 116: There's a Traitor Among Us
Six light sources lit up out of nothing in the silent darkness. the SOUND ONLY sign indicated that this was a teleconference in progress.
"Wait, six?" Charles' eloquent and powerful voice rang out, "Who will explain who the extra one is?"
"The first meeting of U.C. 0087." Diana continued the process, "A special incident was temporarily inserted before the meeting began, and I, as a guarantor, recommend Adrien Lingus to join SEELE. following the customary practice, he has no right to speak, the voting will now begin in order of sequence."
"The First Sequence, Aeolia Schenberg abstains." In the Second Sequence, Diana made a comment for Aeolia, "I am in favor. His loyalty is guaranteed by me, and his ability is unquestionable. End of statement."
"I object." In the Third Sequence, Charles Britannia said in a deep voice, "This person is young and naive. As a person, he is greedy for women and lust without self-control; as an NT, he is mentally unstable. The statement is over."
"I abstain." In the Fourth Sequence, Cardeas Vist said, "I don't know him, so I don't speak. My statement is over."
"I second that." In the Fifth Sequence, Ikari Gendou concluded, "He made a significant contribution to the protection of the Final Dogma during the Junius 7 crashing event, and his personal abilities are worthy of expectation, there is no reason to oppose. End of statement."
"Two votes in favor, one against and two abstentions, the recommendation passes. Adrien Lingus officially joins SEELE from this meeting, tentatively designated as the Sixth Sequence. This thing is over, let's continue the meeting." Diana's voice still sounded emotionless, "No abnormalities were found this week."
"Ditto." Number Three to Number Five said the exact same thing in turn.
"Isn't the absence of anomalies for decades the biggest anomaly?" Ade came up completely out of the box, "The first step of Aeolia's plan - eliminating angels - hasn't progressed for decades, hasn't anyone ever thought that something went wrong with the plan itself?"
"You don't need to make your presence known as soon as you join." Charles said indifferently, "That's why I'm against such young people joining."
"Angels' goal was to find their father, Adam, and why they didn't attack TOKYO-3… that's of course because they found out that it wasn't Adam but Lilith down there." Ade ignored him and continued to speak on his own, "Before determining the location of Adam, no angels will foolishly come out to be the targets. Does not a person here realize it?"
"I can understand that the other people don't know it, but Charles, you have Geass and Code, and you have a good relationship with Lilith, don't you know it?" Ade stopped for a moment without receiving an answer, "So can someone tell me who has Adam now?"
After another moment of silence, Ikari Gendou spoke up, "Only Aeolia knows where Adam is, and he won't tell us."
"So let's discuss the next question, why Aeolia hasn't been talking." Ade seemed a little unrelenting, "I've listened to all the minutes of the meetings all over again, and since U.C. 0056, the year the Earth-Moon War ended, Aeolia's vocal pattern for the closing words of each meeting has started to become exactly the same. In other words, he was playing a recording since U.C. 0056."
"Are you trying to say that Aeolia hasn't been in a meeting since then?" Vist was shocked, "That's just … appalling."
"According to Diana, logging into this conference room requires a password that only the person knows and is not allowed to be recorded in any way." Ade paused for a moment, giving everyone time to think, "So the conclusion is in, there's a traitor among us. I'll give everyone a minute to think about it. If you're the traitor, you can confess your crime during this time."
A minute passed, unsurprisingly, in silence.
"Then I'll just have to guess for myself." Ade gave a very obvious laugh, which produced a little pressure to someone in the dark, "Diana is Aeolia's handpicked successor, so exclude her suspicion. In U.C. 0056, Cardeas was twenty years old, Cardeas's guarantor, his grandfather was seventy-three years old, Ikari Gendou was seventeen years old, Ikari Gendou's guarantor, Charles was thirty-one years old, and Charles' guarantor, his father was already dead at that time."
He paused again to give everyone time to confirm the accuracy of the data and understand the implications.
"So, can we make this inference," Ade coughed for solemnity, "In terms of age, Charles is the most likely to have committed the crime?"
"Charles, do you have anything to say?" Diana was clearly on Ade's side.
"Nonsense." Charles snorted disdainfully, "I have no motive, and you have no proof."
Ade did not aggressively pursue the question, and the others did not rashly express their views. The topic seemed to just end, and this meeting ended in a not very pleasant atmosphere.
"All for the ultimate dialogue." Aeolia's voice rang out as it had for decades, and then the six light sources dimmed at the same time.
"Lingus was vouched for by Diana to join SEELE," Charles said to those around him as he took off his headphones, "He knows it, brother, we're exposed."
"It's really a pain to deal with smart people," V.V. tilted his head to look at his brother, who was much taller than him, "What are you going to do?"
"Start early." Charles' eyes looked stern, "It can all be over before Lingus does anything superfluous."
"We finally betrayed." V.V. made a sighing expression that didn't match his appearance at all.
"Aeolia's plan was simply wrong, we just replaced it with the correct version." Charles sneered in a low voice, "Besides, except for Diana, who else hasn't betrayed?"
"I hope Frontal hasn't betrayed me, he's a rare quality client and quality source of information." In a luxurious parlor, Wang Liu Mei took out a small mirror from her bag to fix her makeup before the guests arrived, "Hong Long, do you think so?"
"Yes." The young man behind her was respectful and looked like a bodyguard.
"For the sake of the family's cash flow and favors, I even have to meet this kind of man in person." Wang Liu Mei put away her cosmetics and glanced contemptuously at Hong Long, "If you were a little more useful …"
Hong Long bowed his head in shame.
A short time later, a dark-haired man with sunglasses entered the parlor, followed by a young girl also with sunglasses and wearing a maid's outfit.
As a socialite, Wang Liu Mei immediately saw that the man's sunglasses, tie, suit, and shoes were all top luxury brands, and his body seemed to say "I'm rich."
"You must be the one that Mr. Frontal guaranteed to recommend, right? Are you also Chinese?" Wang Liu Mei stood up with a formulaic smile on her face as she spoke Chinese, and offered her hand, "May I ask your name?"
"Bun hair, double braids, good, good, good! Red cheongsam with white silk gloves, sophisticated!" The sunglasses man took her hand in his and looked as if he couldn't let go, "Miss Wang, you're too polite, just call me Yang."
"Hello, Mr. Yang." Wang Liu Mei tried her best to not vomit, taking a lot of effort to pull her hand out. If this man was not introduced by Frontal with all his credibility, she would have now asked Hong Long to throw this person out, "Mr. Yang, what industry are you in?"
"I'm running a chicken farm, just call me Farm Manager Yang." The sunglasses man sat on the sofa and crossed his legs, the maid stood behind him and rubbed his shoulders, "Our chicken farm is very big, I'm not going to lie, it takes an hour to drive from one end to the other with a tractor."
"Farm Manager Yang, you're really young and talented, Mr. Frontal has always praised you." Although the other party was wearing sunglasses, Wang Liu Mei could still feel the other party's eyes wandering around her breasts and thighs, and couldn't help but feel another wave of nausea, "Your maid is also a rare beauty, right? I am a little ashamed of myself."
"Of course! This chick is top-ranking! Look at her big tits! Do you know how much money I spent on her?" Yang took the glass of water on the table and drained it, then slammed the glass heavily on the table, "But money is not a problem, I'm so poor that I have only money left. Emptiness, emptiness! Do you understand?"
"A young and promising entrepreneur like you must have some different pursuits." Wang Liu Mei had never heard of any farm manager who could be so rich. Undoubtedly, this man must be some rich man's son and comes out to look for fun. She did not mind maliciously raising the price, "May I know what kind of information you want to buy?"
"I want the whereabouts of this woman." Farm Manager Yang took out a photo from his arms and threw it on the table, "I repeat, money is not a problem."
Wang Liu Mei picked up the photo and looked at it, the photo was blurred, from the angle, it seemed to be taken secretly. In the middle of the image was a beautiful woman with long green hair, "Forgive me for being presumptuous, may I ask who this is?"
"It is said to be Lingus' mistress." Farm Manager Yang laughed, "I have played everything, but I haven't played with the celebrity's wife. I want to try."
Wang Liu Mei gloated in her heart for his life that was about to end. In her opinion, what this so-called "Farm Manager Yang" is doing is no different from suicide.
"There is no problem, you can wait for good news, the Wang family's intellectual ability is trustworthy." Wang Liu Mei put away the photo with a confident smile, "It's just that this involves Lingus, you know, he is a very famous big shot. I'm afraid the price will be …"
"How many times have I told you? Money is not an issue! You despise me?" Farm Manager Yang was annoyed to raise the volume and tone of voice, waving his arms excitedly, "Is Lingus rich? I'm as rich as he is! Just tell me how much it is, if I beat a bargain, I will become a puppy!"
Wang Liu Mei laughed in her heart, but made an embarrassed expression on her face, and then offered a rather substantial number.
"Small money!" Farm Manager Yang looked a little surprised but immediately made as if nothing happened. He rubbed his hands towards the maid behind him, "Too cheap!"
The maid took out the bearer check from her pocket, wrote the number quoted by the other party, and then Hong Long took the initiative to go forward and take it.
Wang Liu Mei took the check from Hong Long's hand and checked it, couldn't help but smile and extend her hand again, "Farm Manager Yang, I wish us good cooperation."
"Of course!" When Farm Manager Yang just touched the other party's glove, Wang Liu Mei darted her hand back, and he withdrew his hand somewhat awkwardly, "Uh, happy cooperation, happy cooperation."
After discussing some more details, Farm Manager Yang left with his maid. Until they returned to the suite of the hotel, where they were staying before, they took off their sunglasses.
Momoka covered her stomach and laughed so hard that she shivered and couldn't catch her breath, "Sorry, sorry, Ade-san, hahaha, I was out of order, out of order, hahaha."
"It's okay, you can laugh." Ade looked into the mirror to remove the disguise on his face, a technique he learned from Char, "I don't want to pretend to be a retarded thug, but unfortunately, C.C.'s identity is too sensitive, and this makes the most sense. Wang Liu Mei must be wondering why did Frontal introduce such a person to her and is looking down on him. Haha."
"So that's how we can find Miss C.C.?" Momoka asked curiously, "We've seen several of those people in the past few days."
"Cast a wide net to catch more fish, there's always one to hit. She's been around Earth for so many years before, her hiding skills are definitely perfect, but her beauty is the biggest break." Ade finished removing his makeup and looked at Miss Maid, "By the way, can you beat her?"
"Judging from how Miss C.C. and Her Highness Angelise fought, I'm afraid I'm no match for her." Momoka showed an apologetic expression, "Ade-san, I'm really sorry for not being able to help."
"It's fine, so let's drug her." He shrugged his shoulders indifferently.
He then took out the various information he had received earlier and organized his speculations on C.C.'s whereabouts. From the time she took the flight from the moon to Earth, there were traces at first, but from a certain point onwards, there was no trace at all, and it was obvious that she was deliberately avoiding tracing. But it does not matter, he has the money, energy, intelligence, and perseverance, he will be able to find clues.
Due to her IQ or some unknown reason, Ange couldn't use the boson jumping function well. Sometimes, it works; and sometimes, it does not work. Villkiss and DX is now the biggest reliance on the moon, for insurance purposes, she and Garrod must stay there, and Momoka became Ade's only choice. In fact, according to his original idea, he didn't want to take any woman with him, but the maid lady was the most agreeable choice after multiple considerations.
"Take care of his life, protect his safety, keep an eye on him to prevent him from looking for women, and when necessary … they are the works of the princess's exclusive maid, Momoka, you must understand it." This was what Ange told Momoka. Of course, Ade did not intend to use the last right.
As for staying safe at home and waiting for news from C.C.? He just couldn't do it.
After eating the dinner delivered by room service, he returned to his room to deal with related matters of Celestial Being and SEELE, and the maid lady stayed alone in the living room. Originally, they had booked a suite with two bedrooms, but Momoka was adamant that for security reasons, either they sleep together or she sleeps in the living room, so now she sleeps in the living room.
By the early morning, Ade figured it was about time on the moon side and made a video call to Lacus.
"The day before and yesterday, you called Ange first, and the day before and today, you call me first, you can use this balancing act well now." The background behind Lacus on the screen is her bedroom, "And then you stay up until this hour every day to call me, are you trying to look pathetic so I can feel sorry for you?"
"I stay up until this hour because we have a time difference." He returned without changing his look, "I won't have to stay up when I change time zones."
"From being sullen all day to now knowing to call home every day, are you afraid I'll run away too?" Lacus smiled to herself, "Don't worry, as I told you before, I'm tied to you, I can't run away anyway."
"That's not what I meant …"
"I know that's not what you meant, I just couldn't help but say that." Lacus relaxed and supported her cheek on the back of her hand, "You are my first love, I have absolutely no experience on how to fall in love yet, and even less on this … kind of relationship."
He certainly understands what she means, according to his previous habit, he should play dumb now and wait for the other party to take the initiative. But now he understands. Even if he said the wrong words, it was better than saying nothing, "Your birthday is the fifth of the next month, I must go back at that time."
"I have to say, from being so cold to being so enthusiastic, I seem to feel like I'm on the verge of developing Stockholm syndrome." Lacus looked at him with a smirk, "Ade, is this in your calculations too?"
"How can I play tricks to you?" He shook his head wistfully, "Never in the past, and never in the future."
Lacus also seemed to remember something, and sighed lightly in silence.
"I feel guilty when I'm with you and C.C., it weighs me down a bit, so I can't help but feel a little more relaxed when I escape to Ange." He seriously looked straight into Lacus's eyes, "This is not right, I am already scum, scum have to carry the guilt all the time, it is because escaping is what makes people who are already hurt even more hurt."
"Why do you say it to me?" Lacus lowered her head, her pretty pink hair covering her face, "Doesn't that make you look even more scummy?"
"Communication is the first step to change." He stretched out his index finger and gently rubbed the screen, "I also know it's hard to have a happy ending, but it will never happen if I don't try. There may be a billion to one chance if I try my best?"
"One in a billion …" Lacus looked up at him and suddenly showed a speechless expression, "Stop it, Ade, this action makes you look like a pervert."
"My existence itself is almost that probable, it might be okay to succeed once more, right?" He laughed awkwardly and withdrew his fingers, "Miracles and magic are real."
Lacus lifted the hair behind her ear and took a deep breath, "… I'll hang up now, you still have to call Ange. It's late there, go to bed early."
He then made another video call to Ange and it was much easier on this end. When it was all over, he yawned and lay down wearily on his bed, dialing a number on his phone and putting it on speakerphone by his pillow.
"It's so hard to have a harem." He buried his face in the pillow, "Especially when I'm not even very good at relationships yet."
"Ade, can the word self-made be used in this scenario?" A voice came from the phone.
"It can." He exhaled, "I'm bringing trouble to myself, self-inflicted, etc., you can use them all."
"… go to bed early, it's already very late." The voice said, "With a full schedule every day, Ade, you need to keep your energy up."
"Well, I need to work harder too." He gave another big yawn and then closed his eyes, "Good night, Alice."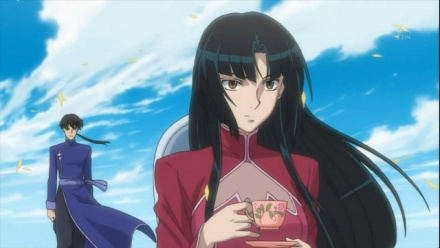 --END-- field separation characters:If you are reading on a pirate site, you will see this. Welcome to read our novels on xianxiaengine.com, where you can read more chapters in advance. 0.iztljzlejztti