Translated by: WuWang
Edited by: anonymous
We are paying our readers now! Look at this page for more information.
Chapter 86: The Day of Unicorn Gundam
Kamille drove Unicorn Gundam, flying over the vast ocean and recalling in his mind what Mr. Quattro had told him, "The full-body psycho-frame is too dangerous for the immature NewType, this Unicorn has a power that you can't control now. I've got an interesting piece of information, and now I'm going to do something very important, just wait for me to come back."
"I've been involved since the design stage and have been with the Unicorn for one year, Quattro-san simply thinks I'm just a child who can't be trusted." Kamille chanted reluctantly, "Saying something important? He must be thinking that I'm just a kid so he doesn't want to tell me."
He waited for a few days and couldn't take it anymore, so he left a note and a map for Mrs. Nanai and left secretly with Unicorn.
"I've had enough of these adults' excuses." Unicorn cut through the sea and sped away, "I'm going to prove to Mr. Quattro that I alone can save Lieutenant Emma, just like Char Aznable did. My NT abilities have skyrocketed since obtaining Unicorn, and I'm sure I can do it with Unicorn."
He found the island where the super small MS crashed last time, and then picked a random direction and started flying. After flying for a while, he felt wrong and changed the direction. After a long time of blindly wandering around the sea, he suddenly felt a flash of electricity in his brain, "This feeling, that NT on the island last time?"
He went full speed in the direction of the NT until a small island with artificial buildings appeared in front of him, and the powerful NT he sensed was inside, and he could vaguely feel Lieutenant Emma's breath there.
"This must be the place." He turned on the public channel and shouted, "I am the pilot of this white Gundam, I don't want to take forceful measures, please hand over Lt. Emma Sheen of TITANS."
Kamille waited for a while, no one responded, so he shouted again, and still no one answered him. At that moment, a number of anti-aircraft guns suddenly rose up in the open space of the island and fired at him. Kamille hastily unfolded his shield.
"You guys made me do this!" He removed the beam magnum hanging on the back of Unicorn and fired at the anti-aircraft cannons on the island. The thick stream of particles plowed the ground, and the anti-aircraft cannons on it went up in smoke, "I repeat, please give me back Lieutenant Emma!"
As if in response to him, many small planes flew out of a hollow opening on the island, firing at him as soon as they came out. In a flash, there were a dozen small planes flying around him, constantly strafing Unicorns with assault rifles. The attacks came from all directions, but Kamille didn't even bother to deploy his shield.
"This is the newest PS armor, your live fire attacks are meaningless." He looked left and right in mid-air, "What can such weak Mobile Suits do? Just hand over Lt. Emma to me. What's the point of doing something like that?"
A PM turned into the human form and rushed to him. His danger foresight made him reflexively use the Gatling cannon, and after being shot, the PM fell into the sea with fire coming out of its body. He then felt sad and angry emotions, from the NewType on that island.
"Why are you angry? It's obviously the fault of the person who took Lt. Emma away, right?" He swept the swarm with his Gatling cannon, "I'm just a child and come to do this dangerous thing, I'm the one who should feel angry, right?"
"This is Commander Gill. of Arsenal." A voice finally rang out from the public channel, "Why are you attacking us? Please answer immediately."
"What's the point of playing dumb now?" Kamille yelled angrily, "I've told you so many times, give me back my lieutenant!"
"Who is the lieutenant referring to?" The person who called herself the commander was still playing dumb, "Please narrate clearly, who exactly are you referring to?"
"I've had enough of these cunning adults." He angrily turned off the public channel, "Playing dumb and stalling for time to think of a countermeasure. What a dirty tactic!"
The Gatling cannon continued to strafe, PMs kept falling into the sea, occasionally, one or two PMs would be able to rush to him, and Unicorn broke them with one punch, but there were still PMs flying out from the island and rushing to him. Every time a PM fell, that NewType would become sadder and angrier. That NT had been trying to drill into Kamille's head, which made his spirit under great pressure. The intense headache made him very painful.
"It's not my fault, why are you angry at me? It's obvious that they are the ones who want to die!" He slapped down a PM with his shield and roared at the air, "If you don't resist, you won't die, why don't you understand?"
But that NewType didn't understand him at all, and still kept trying to rush into his head, which made his headache get worse.
"What Quattro-san said about NewType being able to understand each other is really a lie!" He gripped the joystick tightly and hit his head against the back of the seat, desperately trying to relieve the pain, "I'm in pain, stop talking to me, I'm just a kid! Shut up, shut up, shut up! You, you … you damn NewType!"
At this instant, the NT-D logo flashed on the cockpit display, and Kamille's entire body was fixed to the seat. At the same time, the armor on Unicorn Gundam unfolded, revealing the psycho-frame under the armor emitting a red glow, and the antennae on the head of the MS opened in two from it.
The PMs nearby crashed into the sea one by one as if they suddenly broke. The other PMs found something wrong and rushed up to throw freeze cannonballs at Unicorn, but the cannonballs were blocked by an invisible barrier.
"I'm going to wipe out this damn… NewType!" Kamille's headache-ridden brain seemed to be tainted with black mud, hazily, left with only this one thought, "Destroy … destroy the NewType!"
Without even using his vision, it was as if Unicorn was an extension of his perception, and he quickly locked on to that NewType, right in that opening where the pile of small planes flew out. He zoomed in on the camera and could see a familiar face. He couldn't remember who it was, but that didn't matter.
"Found you." He muttered to himself and raised the beam magnum to the figure, "NewType, destroy."
Then he pulled the trigger.
Ade had a splitting headache. Every time a girl's PM crashed into the sea, his headache would increase a bit. This is the cry of life in a life-and-death situation, the voice of the soul.
At the moment Unicorn shot, a PM by inertia flew to block it. The beam magnum hit it and that PM fell with the momentum. She was just one of his many psychologically counseled girls, and she would do so only because she was the closest.
Unicorn simply ignored the other PMs and continued to target him with the beam magnum, before firing, another girl flew to it and blocked the shot, then her PM crashed.
"That's why I don't want to get too close to these ordinary NPCs! I will also feel painful to see them die at any time!" Ade painfully held his forehead and moaned, "Where is the final BOSS? The enemy has come to your door and you still don't come out?
Momoka looked at him worriedly. Emma went to his side and whispered, "It's all my fault, if I had stood out early…"
Ade shook his head. Emma was here as an undercover agent, it was impossible for her to reveal her identity at the first time, and by the time Commander Gill opened the public channel, the other party had already given up communicating. He knew who the pilot was immediately after hearing his voice, but it was pointless to say that now.
Kamille's manic consciousness had been refusing to talk to him, and now after turning on NT-D's destruction mode, his mind was even more blurred, almost swallowed by the machine - a combination like this was too dangerous.
"Get Ange back." He said to Emma in a deep voice, "This is a problem between NewTypes."
Receiving the order to return, Ange landed on the tarmac, and Ade rolled over and jumped onto Villkiss, holding her waist tightly and whispering in her ear, "Ange, trust me, don't ask questions. Now the other side's target has become me, take me with you, I need your strength."
"… hold on tight, it will be very fast." Ange made a reassuring gesture to Momoka on the tarmac, "I won't let us get hit."
Villkiss took off again as fast as it could. Not surprisingly, Unicorn's view followed it and it flew, and everyone retreated under Ange's command to give Villkiss room to fly. Ange kept flying at full speed, and Ade held her tightly so he wouldn't fall. The beam magnum hit the air behind him from time to time, and he could feel the heatwave from the high-energy particle stream.
"Ange, I'm sorry for dragging you into this danger." He felt Ange's soft and flexible body but did not have any charming thoughts, "This may be a bit too much to say, but I have to focus on one thing, in case of falling, remember to grab me. You do not need to attack, just focus on running."
"Which thing you did to me wasn't too much? I got used to it long ago." Ange replied with a refreshing smile, "You, only at times like this do you call me by my name. Don't worry, leave your life in my hands."
"It's in your hands, Ange." Ade took a deep breath and closed his eyes, focusing his consciousness on Unicorn. Unicorn in its destruction mode is the best conductor of mental induction at the moment, "Unicorn, lend me your power."
The psycho-frame under Unicorn's armor glowed blood red as if in response to him, and his consciousness struggled to fly through the heavy barriers, struggling to break through the quagmire of the system, and finally striking straight at Kamille's consciousness.
"You little brat! Come to your senses!"
"…NewType?" Kamille gave up thinking in the quagmire and only reacted instinctively, "It's all your fault, why are you blaming me? I'm not at fault, I just wanted to save Lieutenant Emma, and I didn't want to kill anyone. Unicorn Gundam told me, just wipe you out, just wipe you all out."
"No blaming yourself on the machine!" He roared in Kamille's head, "You fired the gun, you moved the hand, and you don't have that awareness? Saying I don't want to kill while shooting, have a limit on your hypocrisy!"
"Don't bother me, don't scold me, don't reproach me!" Kamille's will cried out under the stimulus, "I'm not wrong, you damned NewType, don't ask me the same thing as an adult, I'm just a child!"
"Children shouldn't play the hero saving the beauty like adults! You are obviously secretly in love with Emma, right?"
"You … children also have their own ideas!" Kamille's blank eyes were covered with blood, "This kind of NewType, this kind of adult … I want to teach you a lesson!"
Unicorn suddenly drew its beam saber and accelerated towards Villkiss, and as Villkiss turned to avoid it, the beam magnum blasted into the fire. Villkiss did a 360-degree pirouette to avoid the beam magnum's fire, but Ade senselessly detached from Villkiss and fell in mid-air.
"Ade?!" Ange accelerated downward violently, grabbing Ade with precision and flinging him back into the back seat, "I told you to hold on! What are you dazed about?!"
She looked back at Ade, who frowned and completely ignored her. She helplessly grabbed his hand and put it in front of her body, and Ade's hands unintentionally grabbed where they shouldn't grab. Ange thought for a second, "Forget it, this time, it doesn't count as you taking advantage of me."
The Ade who was fully concentrated did not enjoy it, he was still scolding Kamille angrily in the sea of consciousness, "Only the child in puberty will be annoyed and resort to violence after being lectured. Give up thinking and full of sophistry, will you only be intelligent in these small ways?"
"Did I offend you by being smart? What's wrong with resorting to violence? What's wrong with giving up thinking?" Kamille took it for granted, "Mr. Quattro has said that children are allowed to behave as they please!"
"What the hell does he know about teaching children! Is this what he taught?" He only wanted to beat Char to death at this moment, "I don't care if you are the main character, guys like you are not qualified to drive Gundam at all!"
"It's not like I'm the one who wants to drive it!" Kamille shouted hoarsely, "Scirocco threw this thing in front of me and forced me to drive it, I don't want to be the test pilot! It's hard, it's going to get hurt, I'm going to be confined, and my parents don't care about me, and Lieutenant Emma was even snatched away by you guys, and Mr. Quattro doesn't trust me. I'm just a kid, what do you think I'm going to do?!"
"Isn't it your own will to sit on Gundam now? Is it Scirocco who is forcing you to shoot now?" Ade growled, "Don't use your age as an excuse, get off Unicorn if you don't want to drive it. People who sit on Gundam are not entitled to be capricious!"
"No buts, what the hell is your will? Is it to shoot me dead? Is it to take revenge on society? Or do you want to save Emma? Use your brains to think!"
"You're sixteen years old, you're becoming an adult every day! Do you want to use this excuse until your eighteenth birthday?!"
"I … I … Unicorn Gundam said …"
"Unicorn did not say anything, do not put the blame on it, the question is what do you really want? What is your will? I will say it again, use your own brains to think!"
"Don't rush me, I'm trying very hard to think!" Kamille twisted his head desperately, "I … I … don't want to destroy NewType, I want to get Lieutenant Emma back!"
As if in response to his will, the light on Unicorn suddenly disappeared and the armor on it returned to its original state, and the antennae on the head also merged into one. The thing that bound Kamille was also automatically opened, the operation mode was cut back to manual, and he slumped in his seat, breathing heavily.
Ade closed his eyes at the same time and let out a long breath. Forcing a conversation with someone against NT-D was so exhausting that he slumped exhaustedly on Ange's back, pretending to ignore the feeling of touch from his hands, "Ange, freeze cannon, aim at the thrusters."
"… understand." Ange smiled helplessly, with a hint of spoiling. She didn't know what Ade had done, didn't know what had just happened, but she instinctively understood.
Villkiss flew towards Unicorn Gundam, gradually approaching behind it, and was about to bring it into the range of the freeze cannon when Ade suddenly exclaimed, "Evade!"
Ange reflexively obeyed his instruction, and a particle beam struck where they had just been.
Unicorn Gundam was still dazed in place as Ange continued to do irregular evasive maneuvers to avoid the shots coming from afar. A moment later, another gray and white MS appeared next to Unicorn, leering at the duo with its beam gun, but the pilot's mind in it was filled with shock.
"There are two of these things, I really don't know how I'm going to fight, Ade, what should I do?" Ange's voice came from the front, "I'll listen to you if you say go. And you can let go of your hands now, if you continue, I'll really get angry."
"No need to fight, this is the culprit of all this." He secretly moved his hands away as if nothing had happened, "Sinanju Stein … so TITANS is already bankrupt and in a clearance sale?"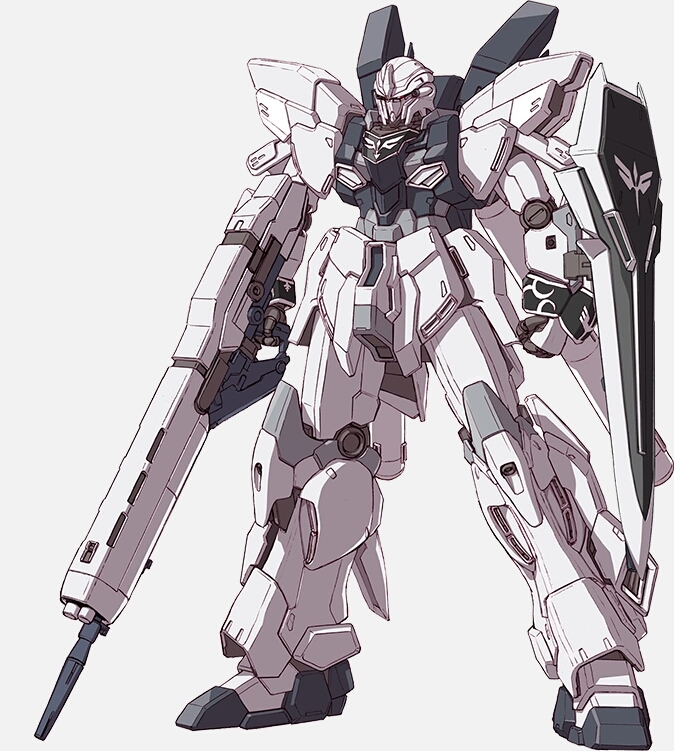 --END-- field separation characters:If you are reading on a pirate site, you will see this. Welcome to read our novels on xianxiaengine.com, where you can read more chapters in advance. 7.jjzt-lzqtztf-