Translated by: WuWang
Edited by: TehGodofDoooom
Chapter 60: The Light of Destruction
Creuset stood behind Zala, looking at the big screen in the Genesis command center. This was the most difficult and important step on the road to his great dream. Behind his mask, his eyes were slightly twisted with excitement, and he tried hard to remain calm.
"Creuset, can you be sure that the coordinates you provided are correct?" Zala asked without turning his head, "The location you provided is behind the enemy's battle line, was this information gathered before Haman Karn gave her opinion?"
"Your Excellency, you can always trust in my abilities." Creuset lowered his head and said respectfully, "I have been looking for the true location of the enemy's main force from early on, and this is why I was able to bring it out immediately when Miss Karn made the suggestion. I trust the source of this information very much."
"I have always trusted you, and you have never let me down." Zala smiled reassuringly, "Go about your business, I'll leave the safety of Genesis to you."
"Please rest assured, Your Excellency." Creuset gave a salute to Zala and turned to leave the command center.
Jealousy, prejudice, arrogance, and greed, ambitious people are always the best actors, so some people would rather sell such confidential information to him for their own desires.
"Ugly creatures … I was indeed right." Creuset let out a low laugh, "What do you want to do by destroying the ecology of the earth, Char Aznable? An excellent actor like you can't back out of the show yet."
There are many versions of his script for the total annihilation of humanity, each very cool and wonderful, but all encountered the same problem - how to wipe out the humans on the moon. But this problem will be solved today, and the plot can finally take a big step forward.
For this reason, Genesis could not afford to lose anyway, and Creuset chose to hold down the fort himself, using ZAFT's truly self-developed nuclear-powered Gundam.
"I have that man's genes in me, there's no reason that I can't use the D.R.A.G.O.O.N system." He looked at the MS in the hangar and hatefully muttered to himself, "My will, Providence's will …"
The Gundam in front of him was equipped with Neutron Jammer Canceller, and was eventually named Providence Gundam. It's a mimic of Freedom and Justice, and because the ZAFT MS Design Bureau likes the D.R.A.G.O.N. system of Freedom very much, they insanely equipped 12 beam pods on Providence Gundam.
The biggest highlight of Providence Gundam is the shield with a beam saber in the left hand, inspired by Hyzenthlays's battle in the naval battle of Torrington. But they can't copy Hyzenthlays's long-bladed rifle, so they just made a common one. In addition, the rifle in the right hand of Providence is basically a copy of Freedom's high-powered rifle "Sirius".
Under the ZAFT MS Design Bureau's "remold" and "I can't make it so I replaced it with a slightly worse one", Providence Gundam's design is very subtly close to the original design.
If Dr. Lingus saw it, he would have said, "Shame on you!" But the ZAFT MS Design Bureau is very satisfied with their work, and boasts to Speaker Zala. they feel that they are one step closer to Dr. Lingus.
Creuset piloted Providence Gundam to the outskirts of Genesis. He received a message from friendly forces that Genesis had been calibrated and started to recharge.
As time passed, the raging gamma rays inspired a dazzling glow of cosmic dust that converged on the tip of the magnificent creation through the reflection of mirrors. Here the rays are concentrated, collected, and illuminated until they break through a certain threshold and finally roar off into the distance with Death.
"Your Excellency Hymem, there is no need for you to go to the front line yourself." Scirocco looked at the TITANS executives in the conference room, all of whom were his competitors, "With such a large advantage today, it would be more than enough to leave it to us to obtain victory."
The flagship, now carrying the old man Hymem and all of his men, was comfortably tucked away behind the battle lines. Scirocco felt that all these losers were waiting for the opportunity to step into the enemy's capital in the first place.
"As the leader of the troops, if I also hide on Earth, what's the difference between us and the losers of the Federation army?" Hymem looked around his men and was greatly relieved, "I must witness the death of PLANT with all of you, in the front line."
It was not easy for Scirocco to be promoted to his current position. Although Hymem trusts him, he trusts these officers in front of him too. Scirocco doesn't know how long it will take for him to become the rightful heir to the organization. Moreover, even if he could defeat all these men, he couldn't really take charge of the power unless Hymem is dead.
"I'm going to join the battle." His time is precious and there is no need to waste it on these losers. Not now, not ever, "Excellency Hymem, everyone, excuse me."
"Major Scirocco, as an officer, always fights alongside the soldiers. It may seem risky, but he has never lost a single battle." Hymem nodded to him in satisfaction, "Go ahead, I look forward to seeing you in the rest of the war."
Scirocco turned and left the conference room and went to the hangar. The-O was waiting for him there. He entered the cockpit and quickly left the flagship, heading at high speed to another starfield, where his own warship was located. As always, he did not wear a pilot's suit, because he never felt that anyone could hit him.
Scirocco repeatedly investigated Hymem's details and found no suspicious intelligence sources. In this case, the only value of the old man was the economic sources he held.
"So you are no longer of value. Goodbye, losers." A short period of time later, a palpitating sensation caused him to look back, and his eyes widened in shock, "How could it be as horrible as this?!"
In the distance, TITANS's flagship and all the surrounding warships and MSs were easily torn apart by the gamma rays. Hymem and his subordinates were penetrated by the gamma rays, and their bodies began to expand and explode. The blinding light across the universe exploded with countless fireworks, looking absurd and bizarre in the silent cosmic background.
"Mr. Adrien, does General Ghingham have to go into battle himself at such an old age?" F91 floated silently next to Inle, "Will his bones break after one maneuver?"
"Kid, you didn't turn off your friendly channel, I heard you." Ghingham's cold voice rang out, "You're the one who graduated from military school and was explored by Lingus to Anaheim, right? Let's have a good exchange about 'what can cause a man's bones break' after we return this time."
"General! Sorry! I was wrong!" Shinn panicked and turned off the friendly channel, "Adrien-san, am I going to be okay?"
"It's pretty scary if Ghingham is our enemy, and nothing could be better if he is our friend." Ade couldn't help but grin, "Mayu and Stella are still waiting for you, get back alive and you will know it."
"Definitely." Shinn didn't say anymore and started to stabilize his mindset.
A few moments later, a beam of light suddenly lit up in the dull cosmic background, stretching from a small dot that was barely visible to the end of the line of sight.
"Here we go, Alice/Ade." They said at the same time.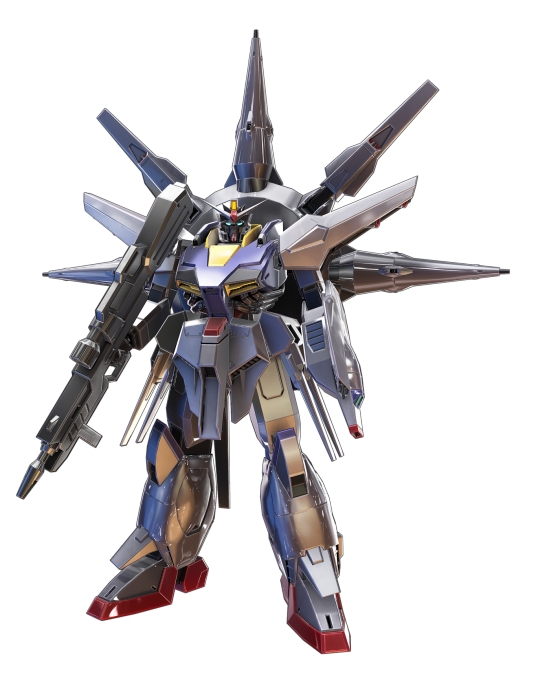 --END-- field separation characters:If you are reading on a pirate site, you will see this. Welcome to read our novels on xianxiaengine.com, where you can read more chapters in advance. 3.iztljztlIztI